In 2016 we have a new digital marketing mission.  We want to help organizations and their followers feel more connected.  Throughout the next 12 months we plan to devote a large portion of our blog to the idea of connecting businesses to consumers in unique ways.  Our first idea for you to think about is using Twitter polls. 
Free and super easy for any business to create, Twitter Polls are intended to help connect organizations with consumer thoughts on a certain subject.  Twitter polls have been around for a few months and their functionality includes:
Anonymous voting

Four answer fields

Expiration after 24 hours

Publicly viewed results

iOS, Android, and desktop polling
How do you get started?
You will need to compose a Tweet to start the process, and this is where you will ask the question.  After you have written your question in the content field, look for the Twitter poll option below.  To add the poll, click on the poll icon to insert it into your tweet.
Once you click on the poll icon, a form appears with 4 optional polling fields.  This is where you can compose your answers.  Please see the example below of a poll we created on Twitter.
After you finalize your answers, you can hit tweet and release the poll.  This is what the poll will look like once you complete it.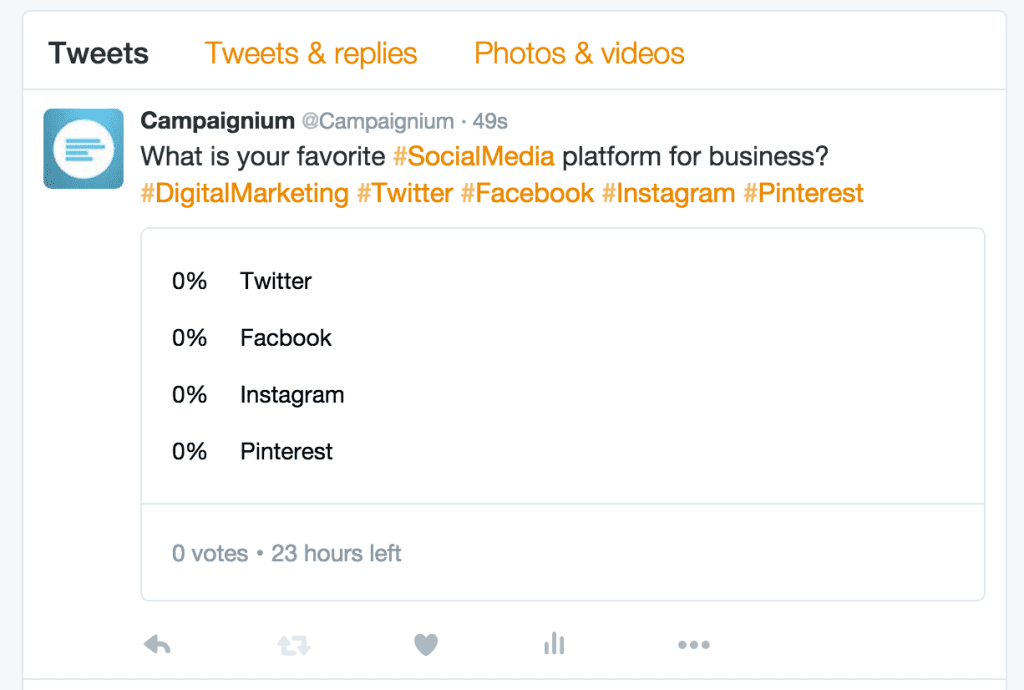 After the 24 hour polling period expires, the results will update for everyone to see in your original post.  Just so you know, individuals can vote in retweets or when pinned to the top of timelines as well. 
Why This Is Cool For Business
Polling consumers can help organizations create better engagement, increase customer service, or stop making common mistakes.  It's going to help you connect better with your followers and make them feel like they have a say in the type of product or service you provide.  Here are some ways you can use this social media poll:
1.  Have you ever given a speech and wanted to poll the audience during that speech?  This provides the functionality to allow individuals to tailor their agenda to the audience at hand. 
2.  If you're a manufacturing company or have a distribution line, product feedback is critically important.  Use Twitter polls to quickly learn if consumers like a new product line or if changes need to be made.
3.  Since an individual's knowledge is the backbone for most professional service organizations, polling followers can help you create new content like: 
Blog topics

Webinar material

Social media posts

Informational videos

Corporate messages
Ultimately, a poll allows consumers to feel much more a part of an organization's decision making process.  We could even see this as a way for larger organizations to poll employees on decision making within the company.
Individuals love to feel connected to their favorite brand and Twitter polls is an easy solution to help you accomplish this.  Share with us how you've used Twitter polls in the past few months.  We would love to hear about it!