Make Important Content
As a Search Engine Optimization (SEO) Specialist, Google's ranking algorithm is something of a mystery. What company worth hundreds of billions of dollars wouldn't keep their secrets to success on lock down? But with so many businesses relying on their organic online search visibility to create new customers, it's more important now than ever to create opportunities to be noticed online. Right? 
How do SEOs do what we do? It's rumored that there are over 200 ranking signals, so there are a
lot of moving parts that inform what we do in our day-to-day jobs. But honestly, a lot of SEO is all about creating worthwhile content that people really like. 
So you've created content that people should gravitate toward — then what? 
Mark. It. Up. 
What is Schema Markup?
Schema markup is behind the scenes, page-level code that forms relationships between entities on a web page. There are several schema types and Google specifically recommends the JSON-LD schema type. 
Schema helps to better refine your content in order to present meaningful information to the user in the form of "rich results" or a "rich snippet" (e.g. a recipe with a review count and aggregate score).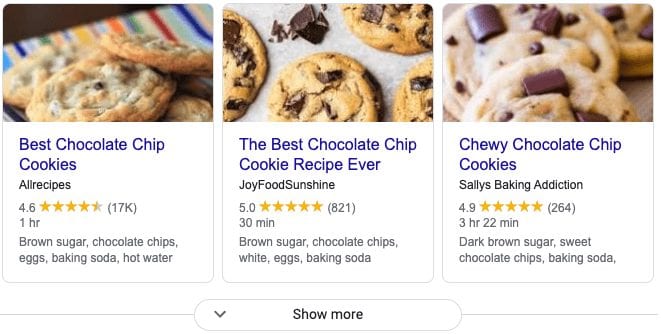 It could also help to clarify the relationship between pages on a website and other pages on a different website. 
Either way, it affects the way your site will appear on Search Engine Results Pages (SERPs) and even affects voice search appearance with virtual assistants like Siri, Google Home, and Alexa. 
The Benefits of Schema Markup
Google has done case studies to show the benefits of adding website schema. 
There is a right way and a wrong way to go about it, even to the point where a manual action on behalf of Google could be in the cards if you create spammy markup. 
There's also no guarantee that Google will use your markup, but it's always worth a shot. Why?
Competitive Advantage of Schema
Schema helps you stand out.
"Worldwide schema.org usage covers less than one third of the websites — and frontline runners, USA and France, are just slightly above the 40%." – Wordlift
As Wordlift has remarked, there are clearly opportunities for improvement when in the year 2020, 60% of US-based websites don't use schema markup. 
If you're in an industry that does tend to invest in digital marketing and/or have competitors who are using structured data, it's incredibly important that you add schema markup to your website  in order to stay competitive. 
Potential customers using certain keywords relevant to your website, and more importantly your business, will be more likely to click through if the search result looks appealing or useful. To top it off, your website looks well-maintained and could therefore be perceived as more trustworthy than other sites. 
Remember how important finding new customers is for business?
The known benefits of adding schema markup offer a return on investment (ROI) that just can't be argued with.
Where to Begin in Adding Schema
Brick-and-mortar businesses, e-commerce retailers, and media or news-driven sites are some of the most popular types of websites that can and should take advantage of schema. 
Based on the markup that's available, these types of sites have plenty of opportunities to include a lot of information about themselves and what's available on-site. As an example, check out the details and examples for "LocalBusiness" schema on schema.org's LocalBusiness page. This could be perfect if you're a local business who provides services to a particular geographic area. 
From this SEO's perspective, the industry is only a starting point. The website type has a small influence. The content matters most. 
When following Google's guidelines, the only thing that matters is the content on the page and how you can build the relationship to that content and the rest of the world in a useful way. 
SEO is all about helping searchers find what they're looking for, after all. Adding relevant schema markup to your website is one way to do that. 
So, instead of focusing on the business type, focus on the type of rich result or rich snippet you're trying to achieve from your focus content. 
Here are the structured data types that Google currently lists in their reference materials:

Article

Book

Breadcrumb

Carousel

Course

COVID-19 Announcements

Critic Review

Dataset

Employer 

Aggregate Rating

Estimated Salary

Event

Fact Check

FAQ

How-to

Image License Metadata

Job Posting

Job Training

Local Business

Logo

Movie

Product

Q&A

Recipe

Review Snippet

Sitelinks Searchbox

Software App

Speakable

Subscription and Paywalled Content

Video



Within each of these types, highly detailed information can be included, which improves your website's relationship with the rest of the world by building a marked up online footprint.
Within the markup for "Video" alone, there are about 20 different opportunities to fill out detailed information for an increased chance at gaining a rich snippet in search results. 
One of the easiest ways to implement schema markup for any website is to add a Frequently Asked Questions (FAQ) area to mark up behind the scenes. 
(This will only work if the FAQ matches the content of the page that you've marked up.)
Rich results would look like this:

Tools to Implement Schema Markup
The markup is injected into the HTML header of the page via a string of Javascript that contains your markup (in the language of JSON-LD).
There are so many tools available to help you in adding schema markup to a page.
Rank Math is a general SEO plugin for Wordpress that helps make some of the basic additions easy. They share an article on how to configure rich snippets using their tool. 
For Wordpress users, there's a very helpful plugin that has over 35 schema types called Schema & Structured Data for WP & AMP that you can download from their Wordpress plugins listing.
For websites on a different Content Management System (CMS), using a schema markup generator like Merkle's is a great way to get started. CMS platforms like Wix and Squarespace have areas in their page level options where you can inject code this way.
You don't have to be a coder to implement schema markup, but some level of patience is necessary. Perhaps this is one of the reasons why hiring an SEO Specialist is helpful. 
Testing Your Markup
Google may not release all of their secrets, but they at least let us know markup is mutually helpful for both Google and searchers. They also provide us with a tool to test the schema markup via the Structured Data Testing Tool.
A quality SEO Specialist will not stop tweaking the markup until it's error-free. Google has given us guidelines for a reason. 
A Mini-Case Study
To prove a point about how great of an opportunity adding this kind of structured data is, I chose a business category and performed a search for those services in my geographic area. Then, I opened the first ten results listed, leaving out directories and social media profiles. I repeated the process a few times for good measure.
I searched "landscaping springfield mo" and sifted through 10 websites to find that only 40% used schema markup. All of the sites using schema ranked better than those without. If you're in landscaping, consider this a great opportunity.
I searched "pet boarding springfield mo" and sifted through another 10 websites. I was surprised to find that 70% had markup. If you're in this industry (in my area, at least), it's imperative that you add schema markup or else you're missing out.
Searching "interior designer springfield mo" showed that 50% of the 10 results had schema markup and those that ranked the best had more of it implemented than the others. 
Searching "mechanic springfield mo" rendered 30% of top ranking websites having it implemented.
I searched "work injury attorney springfield mo" and found that 70% of the 10 results had schema markup. It's imperative that attorneys and law firms have structured data implemented. Below is the first rich result that I encountered during this mini case study.

Lessons Learned
The more you invest in your digital marketing efforts, the better you'll rank in search results. 

Websites that implemented schema markup

in my geographic area

outranked competitors that did not have schema markup.

Utilization of schema markup varies widely by industry.

Sites that included only minimal schema did not outrank those that incorporated more of it on important web pages.

If you're not incorporating schema markup on your website, you'll want to change that so people can find you online more easily.