If you haven't logged into Facebook recently, stop what you are doing and log in immediately.  Facebook now allows organizations to add a new call-to-action button to their own Facebook business page.  This call-to-action button helps businesses encourage consumers to take action, and we feel it's important for every business to implement.
The brilliance of this new functionality is the ease of use from a consumer standpoint.  With one easy click, a follower or prospect can execute one of the following seven actions:
Book Now
Contact Us
Use App
Play Game
Shop Now
Sign Up
Watch Video
Simple to add, it takes less than 5 minutes to create.  The first step is to log in to your Facebook page.  Once you log in, you will notice the Create Call-To-Action button at a fixed location at the bottom of your cover photo.  Make sure your cover photo is complimentary to this new functionality and the button is highly visible.   Click on the button to start the process.
Next, Facebook will direct you to select the type of button, or action, you want the consumer to execute.
Once you select the action, you will need to determine the destination.  This can be a website or an app, depending upon your marketing plan.
Lastly, you will need to choose the destination for people using a mobile device.  Facebook gives you the choice of mobile destination between iOS and Android.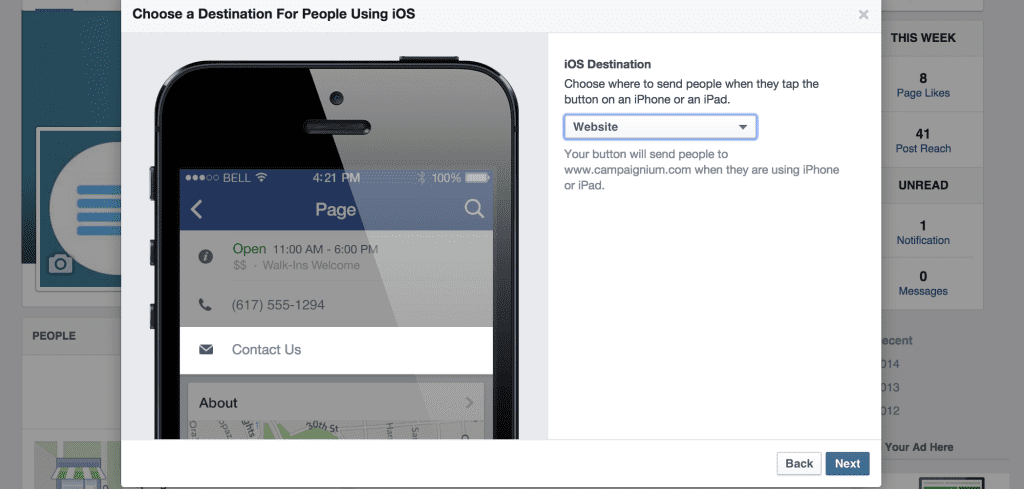 Once the button has been implemented, you can view the results on the right hand side of the business page.  Facebook allows stats of the clicks from the new call-to-action button over a seven day period.
Why Is This Important For Business
Great for engagement, this gives marketers another tool in their marketing mix to drive consumers to a specific destination.  We feel testing each call-to-action button is extremely important to gauge which action creates the most excitement from followers and prospects.  These tests will help provide data on how followers, clients and prospects receive various calls-to-action which in turn can be used throughout your marketing mix.  It's good to know that Facebook is building new ways for businesses to interact with consumers and ultimately create new acquistions.
The new Facebook functionality should be available to everyone now.  We encourage you to send this post to anyone with a business Facebook page.