Many companies ask us to help define their target market. What many people don't understand, though, is you have this data at your fingertips—and it's free. Google Analytics provides robust tracking tools that help you define your targeting strategies, and the data can be found in less than 30 minutes. 
Metrics to Help Define Your Targeting Strategy
Google Analytics allows you to uncover who visits your website, what interests them on the internet, and which platforms they used to find you. 
When logging into Google Analytics, the first thing you want to do is set your date range from January 2020 – December 2020 in the upper right-hand corner of your screen. This allows you to look at historical data to help define who to target moving forward.

After you've done this, make your way to the audience reporting section. This area helps you understand what your website users are interested in on the internet. To find this, you'll navigate to the Audience tab on the left-hand side of your screen.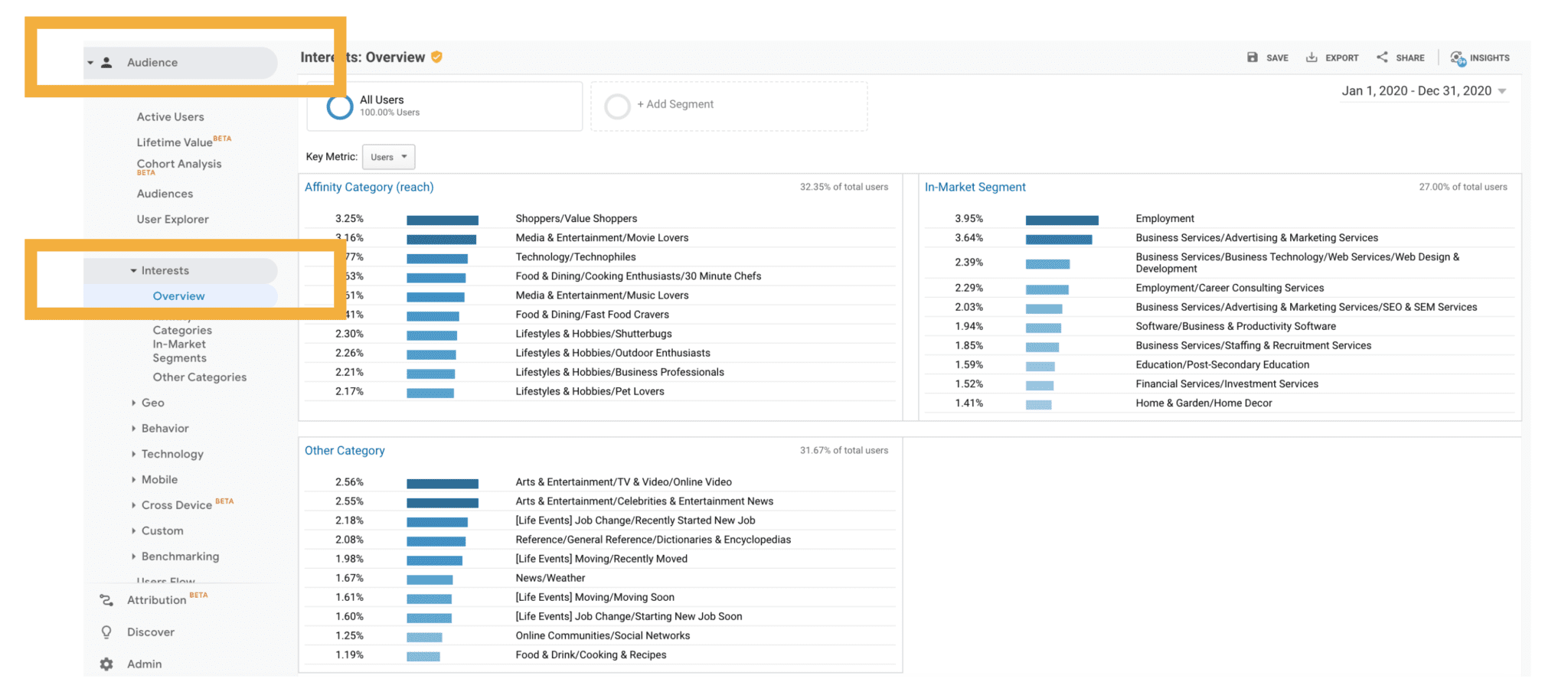 Once there, click on the Interests dropdown and then Overview (Audience > Interests > Overview). This area shows the type of interest categories Google uses to categorize individuals. You'll see three categories: Affinity, In-Market, and Other. 
Affinity Categories in Google Analytics
Affinity categories show what your website users are interested in and how they spend their time. Taking a look at this Affinity category example, we see the top three categories in this account are value shoppers who consume media and are technology savvy. Affinity categories help produce a top-of-the-funnel lead. This group isn't ready to buy yet, so your communication should be a conversation starter. 
What People Are Most Interested In
In-Market Segment categories show what your website visitors have actively researched on Google. If you look at the top three In-Market categories from our example, you see people are looking for employment, advertising services, and web design. These individuals are more likely to make a purchase, and your marketing message or call to action should take that into account. 
All the Others
The Other category gives you even more granular information on website visitors' interest levels. People who like videos, news, and are looking for a job will round out the top three.    
After reviewing this data, the type of individual you might want to target likes technology, is looking for the best possible value for a service offered, and probably pays attention to video more than another marketing medium type. The data also suggests employment pages, advertising pages, and website development pages should be high priority in your ad messaging, website navigation, and on your homepage to ensure a positive user experience.  
Find Your Demographic Target
Look at the demographic information next. Google Analytics shows the gender and age of individuals visiting your site. Still in the Audience tab, you can click on the Demographics dropdown and click Overview (Audience > Demographics > Overview).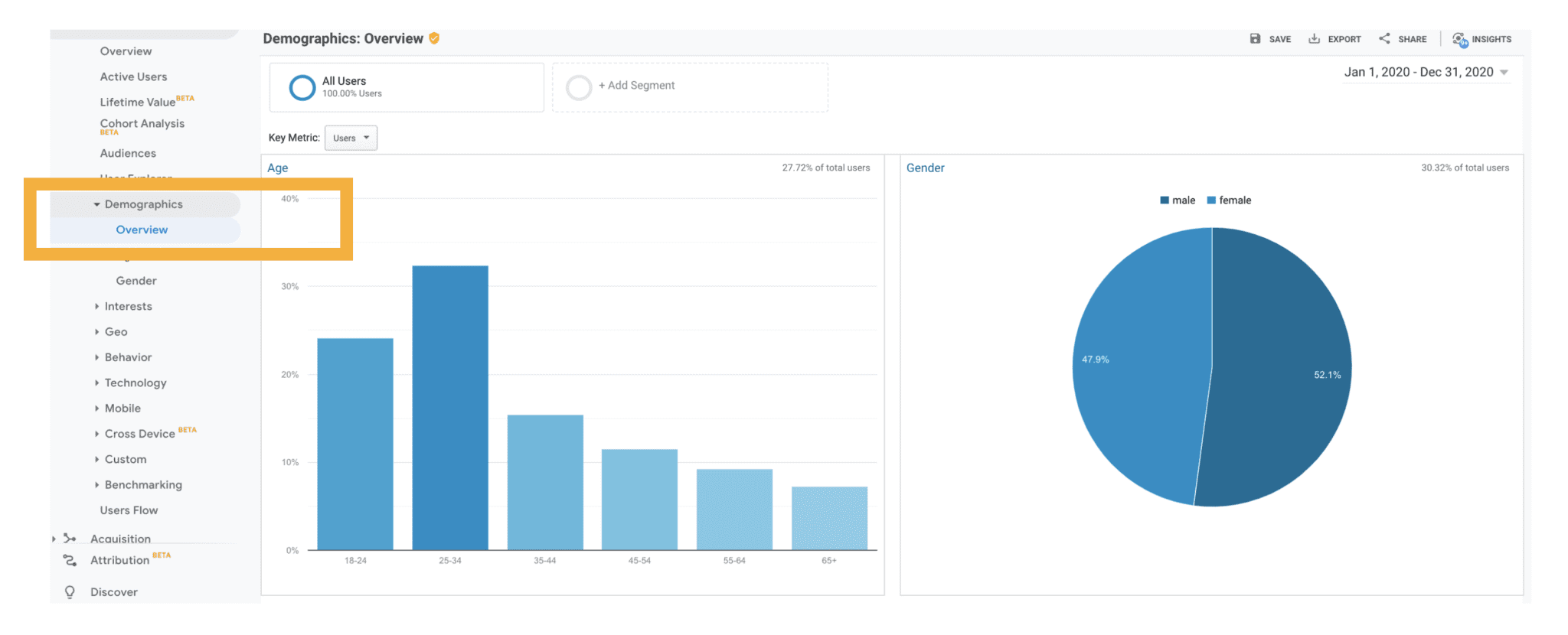 Looking at the data, we can see most people visiting the site are 25 to 34 years old. Gender-wise, visitors are pretty equally split.
Your targeting strategy is really taking shape now. You should target men and women 25 to 34 years old who like technology, appreciate a perceived value, and would most likely want advertising or web development services. It's important to note that these individuals appreciate value. The target market isn't necessarily looking for the best deal—in fact, they value higher-quality service over a lower price. That's something your sales team should know!
Where Did Your Traffic Come From?
Last, look at where your website traffic is coming from. This data will help you decide which marketing mediums to use in the future. Just click on the Acquisition tab and then on All Traffic and Source/Medium (Acquisition > All Traffic > Source/Medium).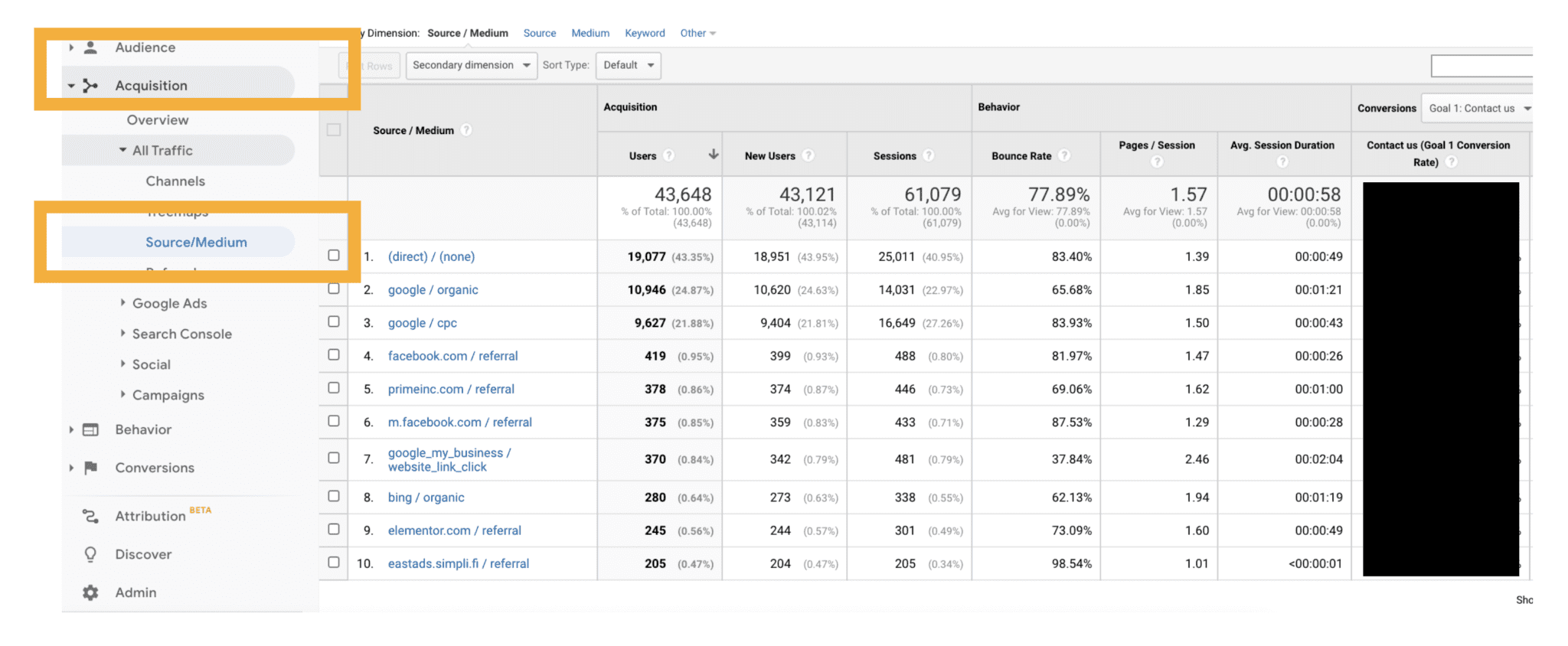 Reviewing the data, you can see the top three drivers are direct traffic, organic visits from Google users, and Google Ad campaigns. Direct traffic is a website visit from typing in the URL (domain) into a browser or through bookmarks. Google also categorizes direct traffic from links in PDF and Word documents or if it can't recognize the traffic source. Organic visits are from individuals performing a Google search and clicking on a search engine result. Search engine optimization is key to getting found organically. Google Ads are the final marketing medium. These digital ads target a specific demographic or location and steer visitors to your site.  
Pull Your Target Strategy Together
After seeing all of this data, your targeting strategy should include males and females who are 25 to 34 years old. They like technology, appreciate value in the services offered, are media consumers, and enjoy watching videos. The marketing mediums that seem to make the most sense include search engine optimization and Google Ad campaigns.  
Using this data, you can also determine a call to action for your campaign. You might consider creating a piece of content and pairing it with a video on a blog so the technology-loving, media-consuming website visitors have an option to read the article or watch the video.  Knowing your target market is interested in web development and advertising, you might consider writing more about these topics. Then the content can be optimized for search engines and used as a call to action in Google Ad campaigns or on YouTube.  
Always consider creating more than one target market. You can create multiple target strategies by looking at secondary categories, age ranges, and marketing mediums.  
Stay Tuned for More Google Analytics Help!
In conjunction with the Springfield Area Chamber of Commerce, we plan to write three more articles this year about using Google Analytics to better understand your website data. We'll explore how to set up goals to track web conversions, compare data to expose trends, uncover third-party tools to extend Google Analytics' metrics, and more.