Few combos are sweeter than Andy's Frozen Custard and fresh berries during the summer. To capitalize on this pairing, Andy's wanted a social media campaign for their Battle of the Berries contest. We developed a memorable theme, catchy post copy and creative illustrations to invite #FANdys (fans of Andy's) to vote!
A Good Ol' Fashioned Family Feud
The Battle of the Berries contest pitted three summer treats against each other to see which one fans preferred. Our team gave the contest a narrative by assigning each treat a familial role and a team to rally behind. With this personal touch, we could build on their traits in a way that created a fun rivalry between each treat's fans.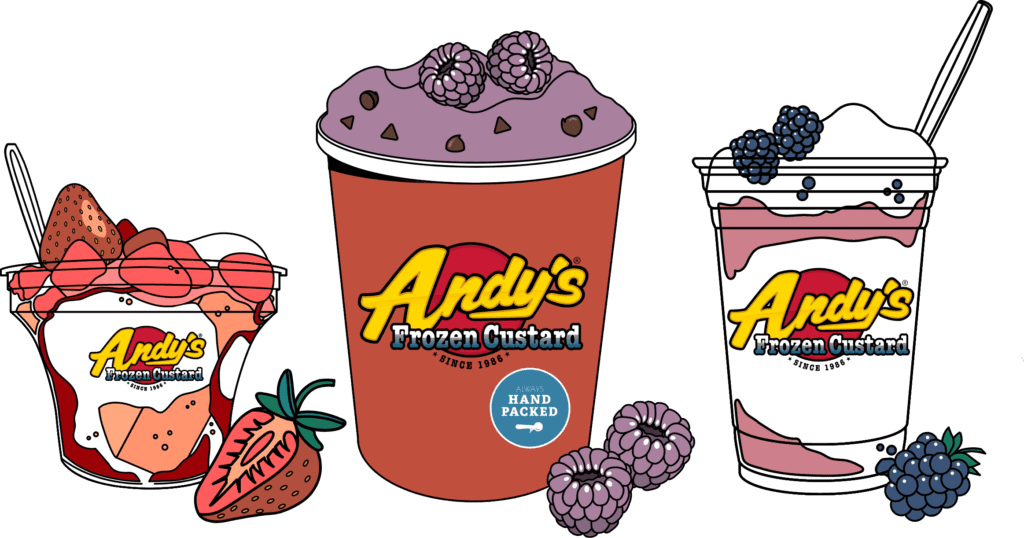 Mixing Eye-Catching Illustrations with Fun Summer Themes
The graphics needed to grab potential voters' attention. We used custom, hand-drawn illustrations to give the campaign a bright, fun appearance while staying true to what Andy's treats look like in person. Our illustrations offered a fresh take on imagery of the classic frozen custard customers love.
Throughout the campaign, we kept fans engaged by posting short excerpts about each treat's best qualities and encouraging them to pick a side in the family feud.
Sweet Social Campaign Gets Delicious Results
Over 5k Votes
Our campaign had one goal in mind: get people to vote. A substantial number of #FANdys shared their opinions on each summer treat. We gave the Andy's audience a reason to celebrate their favorite frozen dessert and drive to Andy's to claim theirs before it was gone for the season.